Hengsha Island Bike & Orange Picking Tour Welcome to the Lush Longevity Island of China
Fancy a break from the endless hustle and bustle of Shanghai city? Why not consider a 30 kilometre bike ride and orange picking tour in this eco-friendly, nonindustrial, lush island known for the longevity of its local people?
Brief Introduction of Hengsha Island
Hengsha(横沙岛) is located in the mouth of Yangtze River (长江). It first emerged from the river in the mid-1800s and in the the late 1800s it was reclaimed for agriculture. This verdant island is now full of vegetation (estimated tree coverage is 70% of the land), orchards and wildlife. Hengsha is known for its clean air, clean water, lack of noise pollution and, most impressively, the longevity of its people. With luxuriant vegetation and intricate water networks used for irrigation and abundant wildlife, a trip to Hengsha is a breath of fresh air and a relaxing day break.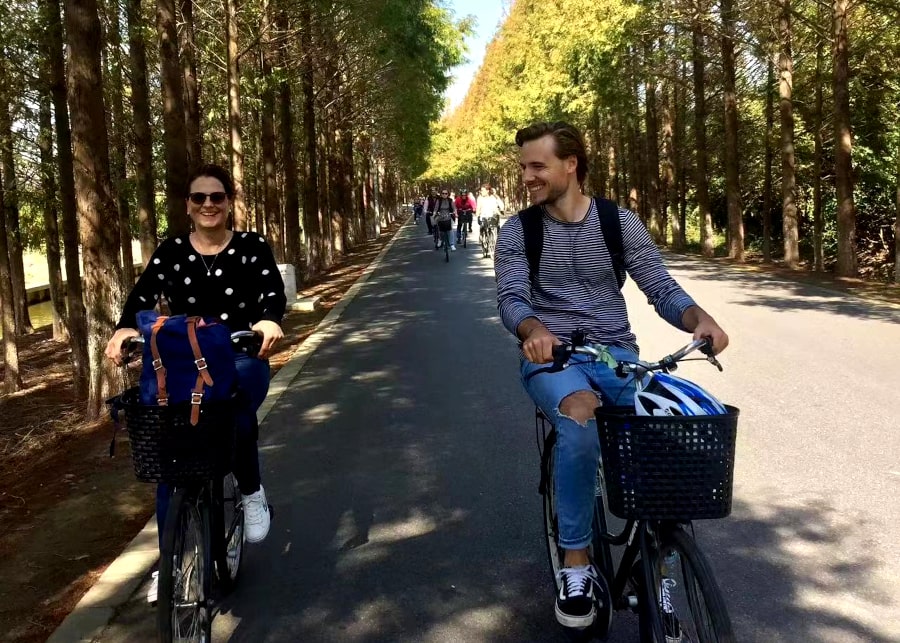 Hengsha Island Bike Tour Route
We will start early in the morning taking an hour and half long bus ride from Shanghai to Changxing Island (长兴岛) from where we will take a short ferry ride to Hengsha Island. Once on land, pick your bike and, put your helmet on and let's start pedalling on this charming piece of nature. We will ride for an hour before arriving at a local restaurant where we will enjoy a hearty countryside lunch.
We will keep exploring this little island in the afternoon, breathing in its fresh, fruit scented air as we ride along its coastline while we gaze at its wetlands with its water buffalos and rich birdlife. We will ride to a few villages where beautiful flowers and vegetables encircle the homes of local farmers.
Our final destination is a local orchard where we will be able to pick oranges and reenergise after our long ride. Our total riding distance today is 30 km. We will have a support vehicle with us, and, although the terrain is easy to cycle, those who prefer not to ride can use the bus.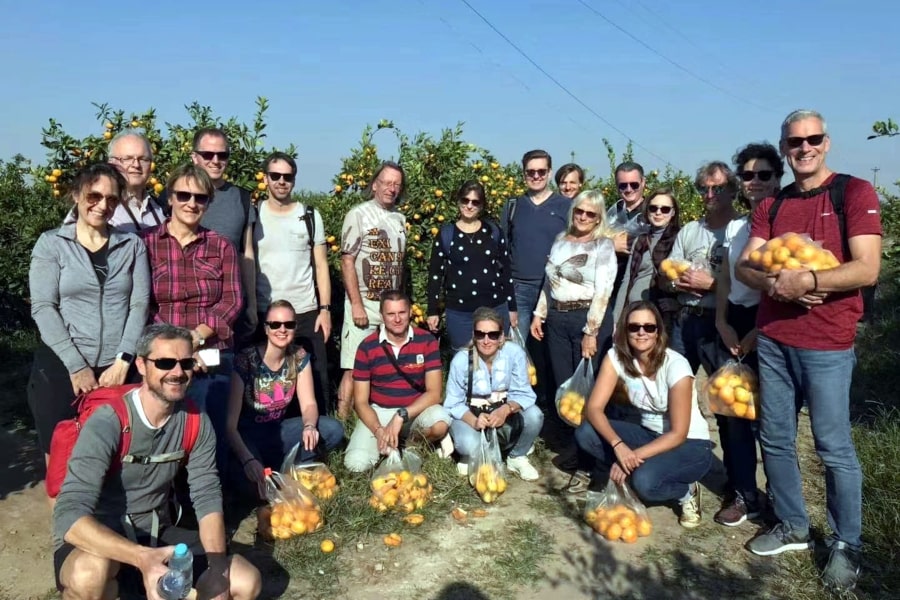 Price per person from: 900 CNY
Price includes: Bike and helmet rental, transportation from and to Shanghai, English-speaking bike guide, bike technician, ferry tickets, orange picking, lunch, water, snack
Cycling Distance: 30km
Level of Difficulty: Easy
Travel Date: October/November for orange picking. Tours can be arranged all year-round if you are not interested in picking oranges
Rates do not include: medical or travel insurance. Please let us know if you are interested in travel insurance.
Meeting Place and Time: 7:45 am at Exit 1 of Hengshan Rd Station, Metro Line 1
Trip Ends at: 7 pm at Hengshan Road Station