Fengjing Ancient Town Bike Tour A Cycling Adventure of Countryside, Canals and Country Artists
Distance cycled: 18 kilometres
Difficulty level: easy
Departure time from Shanghai: 07.45
Estimated arrival time in Shanghai: 18.00
Fengjing Ancient Town is a beautiful quaint water town consisting of canals, old houses and ancient bridges, located about 60 kilometers southwest of Shanghai. Fengjing borders Jiangsu and Zhejiang provinces. Compared to other ancient canal towns in China, it is less well-known and therefore less touristy.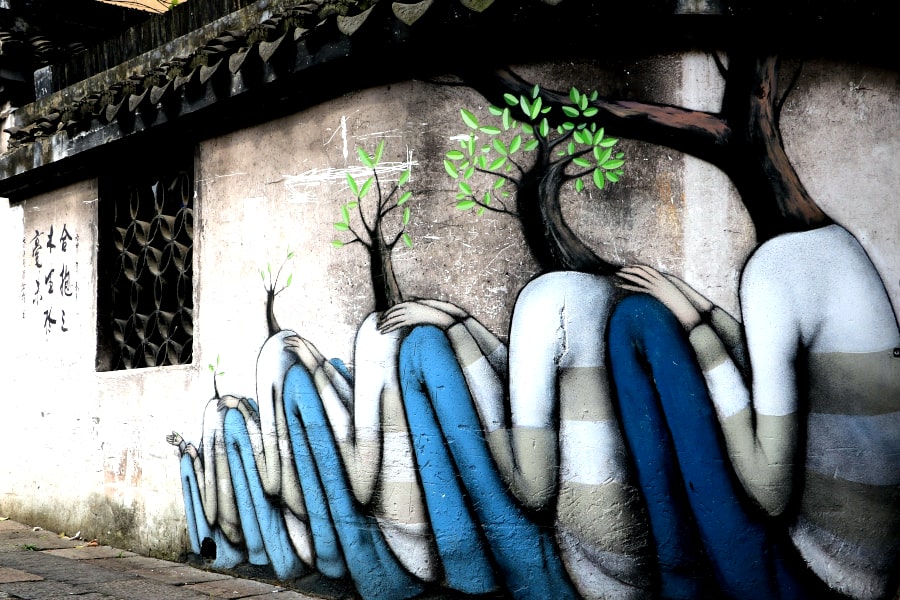 Fengjing has traditionally been an agricultural town, but since the 1970s, it has become known for its folk art. Simple, yet powerful, artwork by local villagers conveys their passion for rural life and their understanding of the world.
Brief History of Fengjing Ancient Town
Fengjing Ancient Town is a water town established in the Yuan Dynasty. Like Xitang water town, it has a large number of centuries-old stone bridges, the most famous being the "Three Bridges."
The Three Bridges, Fengjing
Given its location, Fengjing was considered the southwestern gateway to the city of Shanghai. It is also referred to a town of canals or water town, because nine canals crossed it.
Fengjing Ancient Town Bike Tour Route
We will take a private bus from Shanghai and drive for 1.5 hours until we reach Qingpu District (青浦区). After choosing our bikes, we will start pedalling through the countryside.
Our first stop is the Folk Art Village aka the Farmers' Painting Village. We will visit the art galleries and studios where the artists work. You have the chance to meet the artists while they are working and have a chat with them.
Before continuing pedalling, we will visit the "Upside Down Polish House." A house built, as its name tells us, upside down. Nothing like a Polish housed built outside down in the middle of the Chinese countryside to post random pictures on your Instagram account.
The second part of the bike ride through Fengjing town is shorter. We will go directly to the town centre to enjoy a traditional Chinese lunch as a reward for finishing our bike tour. We will walk through Fengjing Ancient Town, seeing its old houses and canals. Then as a grand finale, we will take a boat through the town's canals to further explore this charming little place. We will return to Shanghai on our private bus in the afternoon.
Our rates include the following: guide, bike mechanic, bike and helmet rental, entrance fees, lunch, snacks and fruit, boat ride in Fengjing town, transportation from Shanghai to Fengjing and back.