DPRK Travel - Foundation of Workers' Party Tour
DPRK Travel - Anniversary of the Foundation of the Workers' Party of Korea. The application deadline for this tour is 12 September 2019. If interested in extending your tour please send us an e-mail stating how long you would like to extend for and if there are any specific places you would like to visit.
Those entering by train leave Beijing a day earlier.
Check our Youtube video below. Mass Dances are usually held on 10 October to mark the Anniversary of the Party's Foundation.
Day 1 - October 8 (Tuesday)
Depart from Beijing at 13.05 flight JS 152 Terminal 2, Beijing Capital Airport
Arrive in Pyongyang at 16.05 (Pyongyang time)
PM
Arch of Triumph - a gigantic structure that marks the return of President Kim Il Sung from his years abroad fighting the Japanese occupation. There is a gigantic mosaic mural too of Kim Il Sung's return speech. The Kim Il Sung Stadium is located close by.
Brief walk around the area
Kim Il Sung Square
Hotel check-in: Yanggakdo Hotel
Welcome Dinner: KITC Restaurant, Pyongyang
Overnight: Yanggakdo Hotel, Pyongyang
Day 2 - October 9 (Wednesday)
AM
Drive to Mount Myohyang - drive to the northern interior of North Korea and discover one of the country's most amazing locations!
International Friendship Exhibition Centre - this site consists of two buildings which are literally built into the mountains. Corridors of endless and truly impressive gifts given to the leaders of the country. We cannot disclose what it is you will see in order not to spoil the surprise(s)!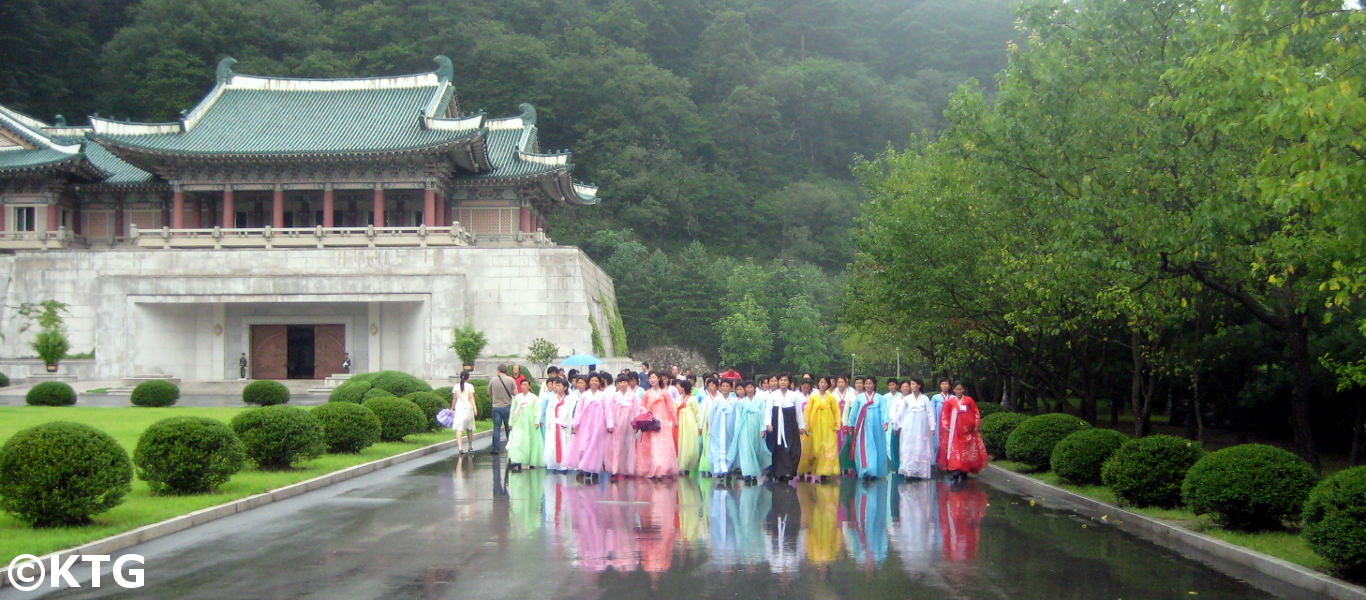 Pohyon Temple - chance to meet local monks. This used to be a major Buddhism centre in the region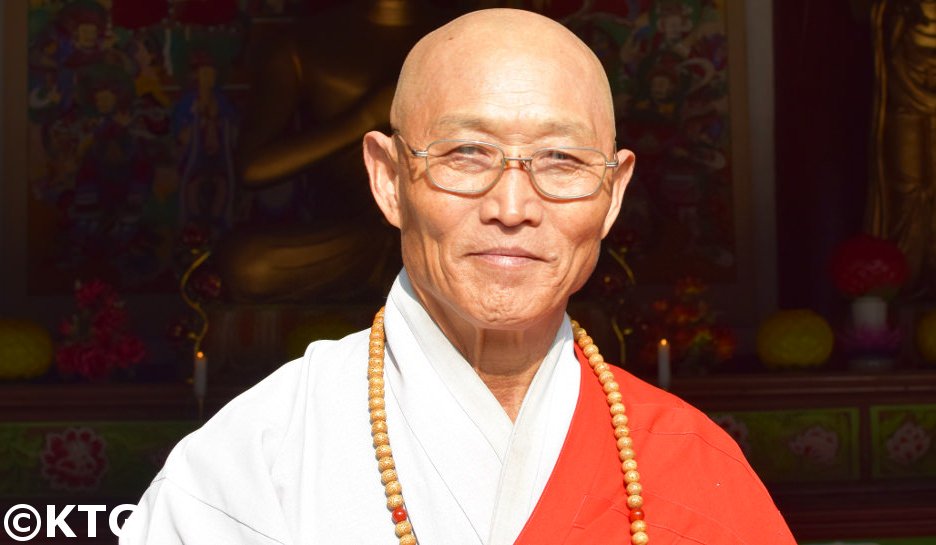 PM
Lunch: Chongchon Hotel, Mt. Myohyang
Drive back to Pyongyang
Victorious Fatherland Liberation War Museum (Korean War Museum) - the museum was re-located and is now much larger and shows more detailed information. You will be able to walk through "war scenes" and see planes, tanks and weapons used in the Korean War. Most significantly, you will be able to witness first hand how vivid the first armed conflict of the Cold War remains in the DPRK, something you will also perceive when at the DMZ.
USS Pueblo - US spy ship captured in 1968, it is held as a trophy in the DPRK and shown to Koreans and foreigners. The ship was captured off the east coast of the DPRK and then shipped to Pyongyang. The US crew captured stayed in North Korea 11 months before being released.

Day 3 - October 10 (Thursday) - Anniversary of the Foundation of the Workers' Party of Korea

AM

Breakfast: Yanggakdo Hotel
Kumsusan Palace of the Sun - Mausoleum of the Leaders Kim Il Sung and Kim Jong Il. The most sacred place in the DPRK and a highlight of any DPRK travel experience.
Revolutionary Martyrs' Cemetery - situated on a hill in the outskirts of Pyongyang it has views of the whole skyline of Pyongyang.

PM

Lunch: Hotpot restaurtant, Pyongyang
Fountain Park - a favourite photo spot for Koreans
Mansudae Grand Monuments - giant bronze statues of the Leaders Kim Il Sung and Kim Jong Il - ideal to visit on a national holiday as there will be many people here, including military units, paying their respects to the Leaders
Views of Chollima Statue - the chollima Horse represents the official policy of the DPRK used in the years following the Korean War with the intention of rebuilding a nation from scratch.
Juche Tower - you can go up 150 metres an have amazing views of the capital of North Korea. For those who would rather stay downstairs it is possible to have a brief walk by the river bed and see locals getting along with their holiday.
Pyongyang Metro - take an extended ride with locals on a National Holiday. The metro is not just impressive because of its depth (on average over 100 metres) but also because of its absolutely stunningly beautiful decoration. The carriages that we will ride on are actually from the former GDR (East Germany).
Moran Park - his is where locals gather on National Holidays. Don't be surprised if asked to join in any dancing and celebrations!
Monument to the Workers' Party Foundation - celebration of the anniversary of the Party's Foundation. This monument consists of a 50 metre tall sickle, hammer and brush.
Expected Mass Dances - we expect that there will be Mass Dances held. This will give us the chance to join hundreds of Koreans dancing to celebrate the Foundation of the Workers' Party of Korea
Local Funfair - we will go to to a new funfair. Even if you do not decide to go on any rides you are guaranteed to find this an experience and you may find people wanting to take pictures with you as the sight of foreigners is far from common in the DPRK. Rides vary from 1 to 5 Euros.

Day 4 - October 11 (Friday)

AM

Breakfast: Yanggakdo Hotel
Depart to Kaesong - head south towards the border between North and South Korea. The trip is 3 hours long and there will be a break by the highway where you can take pictures. If you go up the building you can take pictures of the empty Re-unification Highway. There are several military check-points on the way. Our guides will tell us when we cannot take pictures. After the stopping in the middle of the highway for a 10 minute break, it will eventually start getting dark. Driving on an empty, highway towards one of the most sensitive borders in the world is indeed a surreal and unforgettable experience. As you take on this intriguing journey the local guides will tell stories of life in the DPRK and how they view the country and the rest of the world. We will be explained too how the DPRK expects to reunify the Korean peninsula.
DMZ - chance to enter the famous blue negotiation rooms where talks between North & South Korea have taken place. This a DPRK travel highlight. Please note that if the negotiation rooms are not opened, then you will still be able to have a close-up view of the negotiation rooms. We will be escorted by a DPRK soldier, who will hop on to our coach, and be shown around Panmunjom, including the rooms where the Korean War Armistice was signed. As Korean soldiers tend to be curious about what Westerners think about the Korean War and about Korea in general, this will be a unique chance to interact with them and ask them any questions you may have.

PM

Drive back to Kaesong
Lunch at Tongil Restaurant (Kaesong) - up to 12 small dishes served in covered-up golden plated bowls will be served to each person, each bowl being a surprise.
As we exit Kaesong we will be able to see the train station that connects North and South Korea by rail (but which is currently not in use). At a distance too we will be able to see Kaesong Industrial Complex, which has made the headlines in Western media several times.
Koryo Museum - a UNESCO World Heritage site, this was the first university on the Korean Peninsula
Kaesong Stamp Shop - chance to buy Korean stamps, postcards and last minute souvenirs. You can post your postcards back to Europe (or pretty much anywhere around the world) from the hotel in Pyongyang
As you exit Kaesong you will be able to see the train station that connects North and South Korea by rail (but which is currently not in use). At a distance too we will be able to see Kaesong Industrial Complex, which has made the headlines in Western media several times.
Drive to Sariwon City - lively city in the DPRK. We will have a stroll around its busiest street, Food Street, where we will be able to stop in one of the local "Suk Jib" (literally meaning wine house) where locals have Makoli (Korean rice wine). Great chance to absorb the local atmosphere.
Sariwon Folk Street - locals normally play games here in the street and we will be more than welcome to join in!




Option to walk up the local hill and have a panoramic view of the whole city of Sariwon. Please see our Youtube video above to have an idea of what it looks like!


Drive back to Pyongyang
Stop by the Re-unfication Monuments) - great spot for some final pictures! Please check our 360° image of the 3 Charters Reunification Monument by clicking on the bubble!

Overnight: Yanggakdo Hotel, Pyongyang

Drive back to Pyongyang
Reunification Monument
Local Beer Bar before dinner
Farewell Dinner - Number 1 Pyongyang Duck BBQ Restaurant

Day 5 - October 12 (Saturday)

AM

Breakfast: Yanggakdo Hotel, Pyongyang
10.25 am train to Beijing - if interested in flying back please let us know in advance

PM

Stopover at Sinuiju train station bordering China - DPRK customs will be carried out on the train

Day 6 - October 13 (Sunday)

AM

Arrive in Beijing at 08:40 am

End of tour our DPRK Travel Workers' Party of Korea Foundation Day Tour