DPRK National Day Extended Tour
DPRK National Day Extended Tour - Although our group sizes are usually small, with an average of 10 people or less per group, September and August are the busiest months of tourism in the DPRK. You are therefore kindly asked to apply by the application deadline for this tour which is August 6th 2014 as we cannot guarantee booking the necessary transportation means for any late applicants given that transportation to and from the DPRK is limited.
Our excellent relationship with our Korean partners and frequent contact them, together with the general small size of groups allows us to show travellers a variety of aspects of the DPRK and to be more flexible with the programs once in North Korea.
If not a US citizen, you can also join this tour by train. Please contact us if you are interested in this option.
Day 1 - September 8 (Tuesday)
Depart from Beijing at 13.05 flight JS 152 Terminal 2, Beijing Capital Airport
Arrive in Pyongyang at 16.00 (Pyongyang time)
PM
Arch of Triumph

- gigantic marble structure which marks the return of the Eternal President of the DPRK, Kim Il Sung, from his years spent outside of the DPRK
Brief walk around the area. We will see Kim Il Sung Stadium from outside and the enormous mural of the Leader Kim Il Sung depicting his speeach made upon his return to Korea after the liberation of the countrty in 1945. Images of the Leaders Kim Il Sung and Kim Jong Il, as you will discover, are almost omnipresent all over the DPRK
View of Chollima Statue

– Korea was devastated after the Korean War. The DPRK government used the Chollima Policy to reconstruct the country. This consisted of making extra efforts in re-building a nation turned to rubble by three years of war and bombardments.
Hotel check-in: Yanggakdo Hotel, located on an islet in the Taedong River, it offers great views of Pyongyang.
DPRK National Day Extended Tour Welcome Dinner: KITC Restaurant, Pyongyang
Day 2 - September 9 (Wednesday) - DPRK National Day
Understandably the most important day in our DPRK National Day Extended Tour and of the most important days of DRPK calendar. Our long term excellent relationship with our Korean partners and local guides together with the generally small number of travellers we have in our groups allows to arrange improvised visits to areas and events not scheduled in the program and that cannot be seen with larger groups or agencies that do not enjoy a close relationships with the Korean travel authorities. We have been to the DPRK on countless ocassions, know the local guides well and this helps when asking to see celebrations not listed in the official program.
AM
Breakfast: Yanggakdo Hotel
Ride on Pyongyang Metro

(extended ride) - chance to go on the deepest metro in the world and to see local getting along their lives on National Day.
Mansudae Grand Monuments

- we will visit the giant bronz statues of the Leaders Kim Il Sung and Kim Jong Il
PM
Picnic lunch

- enjoy an open air lunch on what is one of the most important days in the DPRK or alternatively have lunch at a local restaurant
Moranbong Park

- this is where local gather, drink, have picnics, sing and dance on national holidays. The site of foreigners is not that common in the DPRK even in Pyongyang, so be ready to be asked by locals to join in the fun!
Mangyongdae Native House

- this is Kim Il Sung's Birthplace
Juche Tower

- you may go up the 150 metre tower (170 metres including the torch) and therefore have a 360° degree view of the whole of Pyongyang
Workers' Party Foundation Monument - this consists of a giant hammer, sickle and brush (representing the workers, peasants and literates respectively).
Expected Mass dances

in which locals celebrate National Day – you will be more than welcome to join in the dancing. There will be hundreds of university students dancing in a synchronised way.
Dinner:

Local restaurant, Pyongyang
Local funfair

- the rides are a lot of fun, but the main reason we ask to arrange a visit here is that it allows us see Koreans enjoying themselves on National Day. You can of course go on the rides (rates range from 1 Euro to 3 Euros per ride), but even if you do not, we believe that exploring the area and mingling with Koreans itself is a valuable experience itself.
Day 3 - September 10 (Thursday)
AM
Breakfast: Yanggakdo Hotel
Kumsusan Memorial Palace

- the mausoleum of the leaders Kim Il Sung and Kim Jong Il (where the lie in state) this is one of the most sacred places in the DPRK. You are kindly asked to dress in formal clothes and to be in your best behavoiur. We will of course give more details when briefing you on your trip to the DPRK.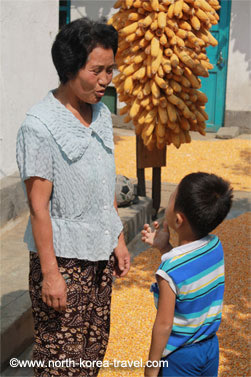 PM
Lunch: Local restaurant, Pyongyang
West Sea Barrage

- this 8 km long structure was finished in the 1980s. It separates the West Sea and the Taedong River thus reducing floods. It also helps generate energy for the local surrounding area. As we drive on the barrage we will see the sea on one side and a rail track then the Taedong River (which leads to Pyongyang) on the other. We will be able to see the all of the structure from the hill that overlooks the whole project and neighbouring areas.
Drive to the Natural Hot Spa Hotel (Ryongang Hotel) - located in the outskirts of Nampo, this consists of several villas. Each room has a hot spa with water coming directly from the waterbed under the ground. In spite of it being salty, it is actually not from the sea. The spa allegedly has a number of health benefits.
Overnight: Hot Spa Hotel, Nampo
Day 4 - September 11 (Friday)
AM
Breakfast: Hotspa Hotel, Nampo

Koryo Museum

- the peacefulness and tranquility than can be sensed here is a strong contrast to the almost tangible tension that can be felt at the DMZ. The Koryo museum was originally a university and dates from the 900s. Kaesong was the capital of the Koryo Dynasty.
Kaesong stamp shop

- a wide variety of DPRK stamps, art works and books can be purchased here.
PM
Lunch: Tongil Restaurant (Kaesong) - You will be served up to 12 small dishes in covered golden plated bowls. Tongil means reunification in Korean.
Korean War Museum

- the new museum has all kinds of details explaining the DPRK version of the Korean War. From original weapons used in the war, to wax statues and real size war scenes that you will be able to walk through to a revolving panorama of battle scenes, this is an impressive museum. Many local Koreans come here too.
USS Pueblo

- this is an American spy ship that was captured in 1968 off the east coast of the DPRK and transported all the way to Pyongyang where it is held as a trophy and shown to foreigners and North Koreans alike.
Golden Lane Bowling Alley

- see locals spend a Friday evening of fun and feel free to join in! Apart from bowling people also play pool and arcade games



Dinner:

Pyongyang Number 1 Duck BBQ, Pyongyang
Overnight: Yanngakdo Hotel, Pyongyang
Day 5 - September 12 (Saturday)
AM
Breakfast: Yanggakdo Hotel
Coach to Mount Myohyang

- we head north to this beautiful and relaxing area of North Korea

Pohyon Bhuddist Temple

- a chance to see ancient aspects of Korea. It was first built in 1042 and has undergone restoration since

PM
Korean Film Studio

- settings where DPRK movies are filmed. If lucky we will be able to see the production of a movie. We will see the sets used for the production of movies in the DPRK.
Korean Art Studio

- this is where statues, paintings, carvings and many forms of DPRK propaganda are produced
Dinner: Local restaurant, Pyongyang
Overnight: Yanggakdo Hotel, Pyongyang

Day 7 - September 13 (Sunday)
AM
Breakfast: Yanggakdo Hotel
Drive through the beautiful scenery to Sariwon City, the third largest city in the DPRK in terms of population
Drive to the city centre and brief stop outside the Medical University and main city square
PM
Lunch: March 8 Hotel, Sariwon (named after International Women's Day)
Sariwon Folk Village

- here you will be able to see the territorial map of Korea's cultural ruins, historical relics, the Provincial History Museum, various pavilions and houses representing those of the time of the ancient and medieval era of the country
Pyongyang Maternity Hospital - we will have a doctor and nurse walk us around the hospital
Diplomat's Club

- relaxing evening after a long trip in North Korea
Farewell Dinner: City restaurant, Pyongyang
Overnight: Yanggakdo Hotel, Pyongyang
Day 7 - September 14 (Monday)

AM
10.40 Train to Beijing - please notify us if you would like to end the DPRK National Day Tour by plane
PM
Stopover at Sinuiju train station bordering China - customs procedures will take place on the train
Overnight: train
Day 6 - September 12 (Sunday)
AM
Breakfast: Yanggakdo Hotel
10.40 Train to Beijing - please notify us if you would like to end the DPRK National Day Extended Tour by plane
PM
Stopover at Sinuiju train station bordering China - customs procedures will take place on the train
Overnight: train
Day 7 - September 12 (Friday)
AM
Estimated arrival time in Beijing central station 08.31 am