Central Tibet Tour | 6 days
Immerse yourself into Tibetan culture and history, explore its rich religious and artistic traditions all whilst enjoying the absolutely breathtaking scenery the "roof of the world" has to offer...
Day 0: Sky Road train from Xining to Lhasa
Start your tour from Xining by taking the famous "Heavenly Road" to Lhasa. Bring some reading material to enjoy whilst gazing at the amazing landscape of the Qinghai-Tibetan Plateau that this 1956 km long route, that takes you to one of China's most isolated regions, has to offer.
Day 1: Arrival in Lhasa
Our local Tibetan guide and driver will be waiting for you at Lhasa train station, just a few kilometres away from the city centre, and will greet you with a traditional white Tibetan katak (scarf). You will be transferred on your private vehicle to your hotel to drop your luggage and freshen up and then your guide will take to a local restaurant where you can try some delicious traditional Tibetan dishes. Take a rest in the afternoon or go for a walk around town with your guide.
The Potala Palace at sunset
Day 2: Lhasa Highlights
Today you will see the main highlights of Lhasa; the grandiose Potala Palace, the most sacred temple in Tibet; the Jokhang Temple and the religious pilgrim route in Barkhor Square.
Our first stop is what many consider to be the most famous landmark of Tibet; the Potala Palace. Home of the Dalai Lamas, this massive structure was built in the 1600s on the site of an older fortress, possibly built in the 7th Century.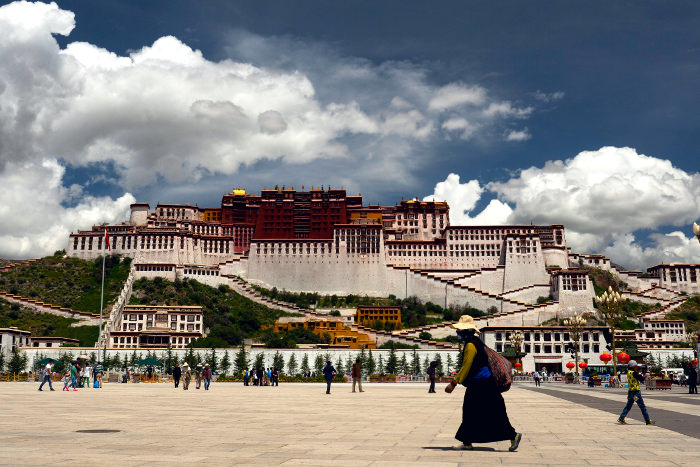 Located between the Deprung and Sera monasteries and the old town of Lhasa, this mammoth building has over 1000 rooms and 13 floors overlooking the whole city.
Next you will go to the most important religious building of Tibet; the Jokhang Temple. Built between 639 AD and 647 AD by King Songsten Gampo for his Chinese and Nepali wives, this temple, one of the the oldest Buddhist structures in Tibet, has for centuries attracted people of all tribes of Tibet.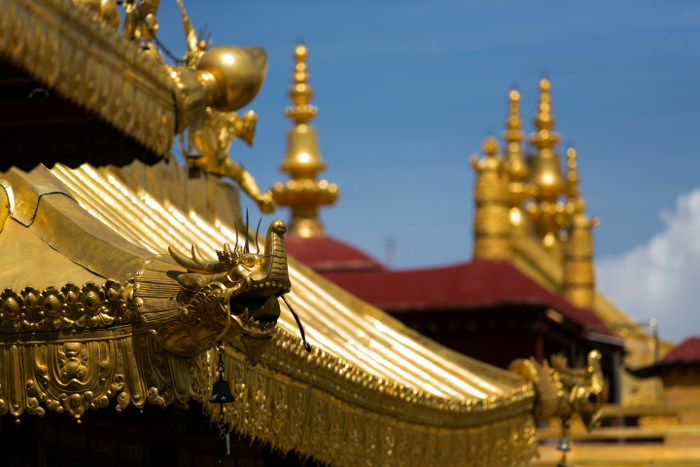 You will have lunch at a local restaurant. We recommend you to try some Tibetan momos and tea.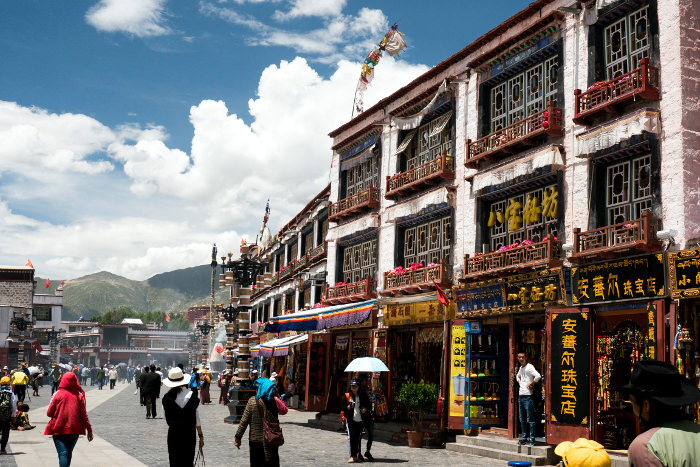 Barkhor Square, full of bazaars, restaurants and tea-shops, and a pilgrimage route with its religious devotees, surrounds the temple and is one of the liveliest spots in Lhasa.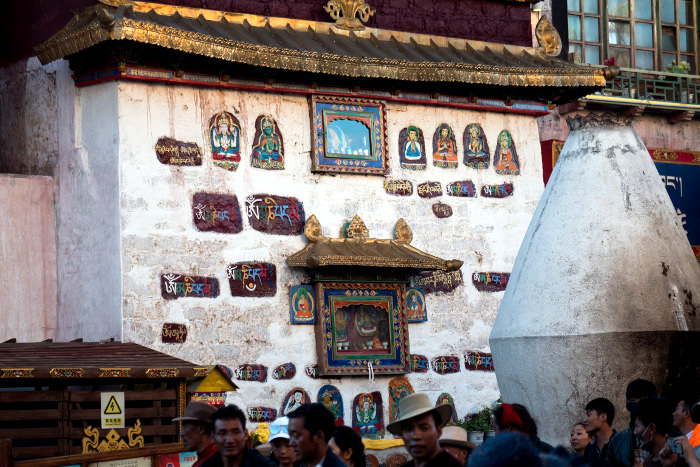 Please note that we need to book tickets to the Potala Palace in advance and will request a morning visit but that this cannot always be guaranteed and this may affect the order of today's schedule.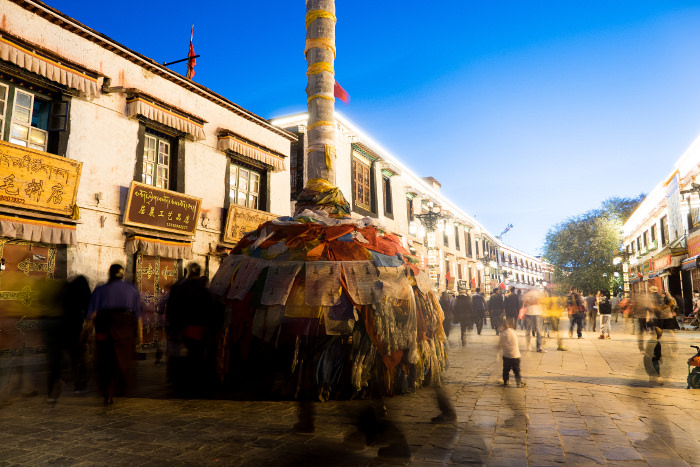 Day 3: Shigatse (3840m / 340km) via Yamdrok Lake & Gyantse
You start bright and early for this fully packed day with many fantastic photo spot stops.
Before arriving at Gysantse Town, which was once the third largest city in Tibet, you will go through three major mountain passes; Khamba-la, Karo-la and Simi-la.
The first one is Khamba-la. With a height of 4750 metres, it offers great views of the turquoise Yamdrok-tso lake. You will drive all the way down from Khamba-la to the shores of Yamdrok Tso lake before driving up again.
Karo-la is at 5045 metres above sea level and offers stunning views of the Mt. Nojin Kangsang glaciers that are located 7191 metres above sea level.
Once in Gyanste you will visit the town's most renowned monastery; the complex of Pelkor Choede Monastery aka the Palcho Monastery.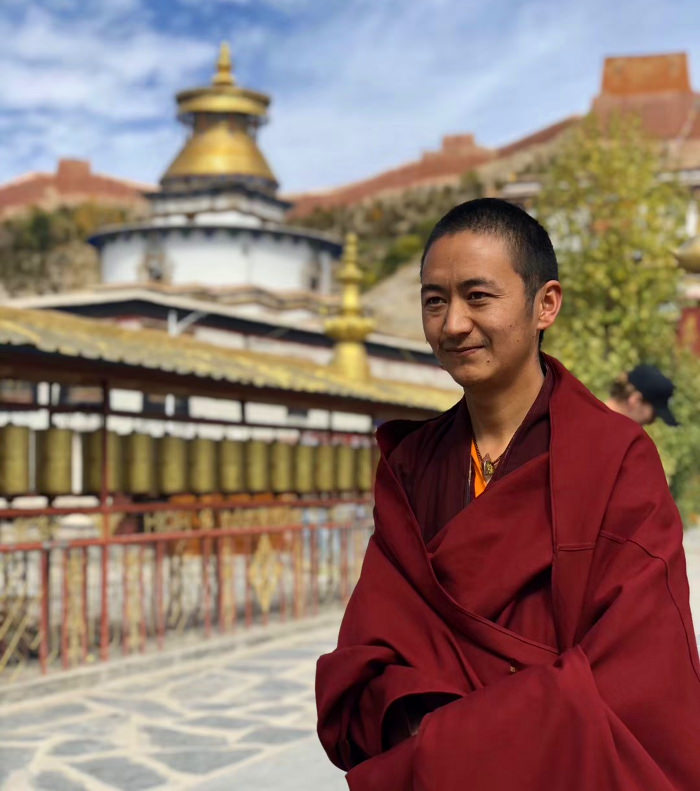 Gyanste's famous Kumbum, a Tibetan 8 story building standing 37 metres high and housing 75 chapels and 100,000 images, is part of this once extensive complex.
Nowadays, however, only the central building of this historical complex stands.
Meeting locals at Gyanste town
You will then drive through Tibet's richest agricultural areas, heading 87 km northwest to the second largest city in the Tibetan Autonomous Region; Shigatse.
Day 4: Shigatse to Lhasa (3658m / 280km)
Today's first stop is the largest religious complex in Tibet and one of the most important Gulukpa monasteries and seat of the Panchen Lama; the Tashilhunpo Monastery. The Panchen Lama is one of the most important figures of Gelug Buddhism.
You will head back to Lhasa in the afternoon, following the Yarlung Tsangpo river (Brahmaputra) that meanders all the way down to Bangladesh, enjoying views of the sandy landscape.
Day 5: Ganden Monastery (50 km northeast of Lhasa)
You will head around 50 kilometres northeast of Lhasa to Ganden Monastery which lies atop a ridge offering breathtaking views of the Kyi Chu Valley.
Built by Tsongkhapa, a famous Tibetan Buddhism teacher and founder of the Gelug school of Tibetan Buddhism, in the early 1400s, it is the first and main seat of the Gelugpa order.
You can take the kora route around the monastery which offers impressive views of the valley and takes about one hour to complete. Nothing like taking a packed lunch and enjoying the dramatic views offered. Alternatively, it is also possible to go on a half day trek to Tubshi, your driver will pick you up at the village.
Day 6 - Departure
Transfer to the airport or train station after breakfast. Depending on your departure time you may have fee time to wander around Lhasa (please note that it is not possible to enter any monasteries, temples, etc without a guide, but it is possible to go shopping, to coffee shops, etc unaccompanied).