North Korea Economy
Our section "North Korea Economy" focuses on the economical structure of the economy of the DRPK.
The DPRK has a strongly centralised system and it evolves around its Juche Ideology, focusing on self-reliance. However, slight reforms have taken place recently, such as the operation of small markets in the country. Trade also exists with several countries.
It must be noted that it is hard to obtain accurate economic data from the DPRK which is why the figures below are estimates obtained from a variety of sources:
GNI (2002) per capita: $762
GNI (2002): $170 million
(Bank of Korea estimates) - figures released by the DPRK related to its economy is scarce, meaning that figures may not be accurate.
Main export: mineral fuels, ores, maritime apparel, machinery.
Industrial Structure (2007 estimate)
Agriculture: 21%
Services: 39%
Mining, manufacturing and construction: 40%
See chart below to see how the economic structure of the DPRK has varied since 1990.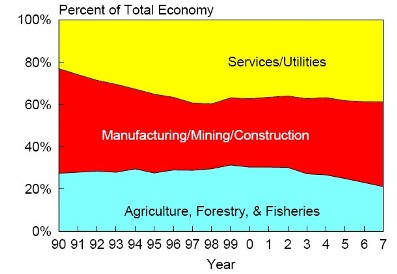 Major trading partners: South Korea, China, Japan (traditionally though the past few years they have stopped trading relationships) India and Russia.
Please see the graphs below for more details on the DPRK's imports and exports relations with these countries.
North Korea Imports of Merchandise by Major Country of Source, 1994-2007
North Korea Exports of Merchandise by Major Country of Source, 1994-2007
Source: Data from UN COMRADE Database. Gobal Trade Atlas and Korea Unification Ministry
Special Free Trade Zones: Sinuiju (Northwest, bordering China) Special Administrative Region (SAR) Kaesong Industrial Complex (KIS).