North Korea Travel & DPRK Information
At KTG we organise tours to one of the world's most secretive and less visited destinations in the world; the Democratic People's Republic of Korea (D.P.R.K), commonly known by the West as North Korea.
Our aim is to allow people discover this fascinating and captivating country so as to increase the chances of cultural exchange between the DPRK and other countries.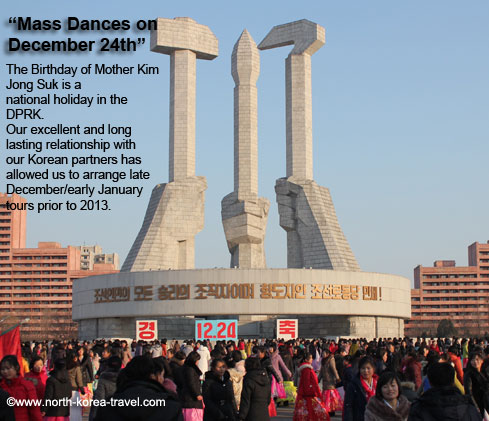 We work directly with Pyongyang and provide tours in English, German, French, Spanish, Italian, Russian, Japanese... To communicate with us you can do so in English, French and Spanish as we have a strong multicultural team that will be able to deal with your enquiries.
Whether it is because of its impressive personality cult to the "Great Leaders", its 1970s style buildings combined with a feeling of a 1950s China, its unpolluted sceneries, the warmth of its people or the colossal communist monuments in Pyongyang, a trip to the DPRK will be an unforgettable one.
Many of our customers simply describe it as being the most interesting place they have ever been to.
If on the other hand you are simply interested in knowing more about the DPRK please browse our website as we have a lot of information on North Korea tourism and the DPRK in general.