North Korea Mass Games Tour
North Korea Mass Games Tour - chance for travellers to see celebrations of Chinese National Day in Beijing on October 1 (the anniversary of the foundation of the People's Republic of China) and then head out the following day to North Korea. The application deadline for this tour is September 9 2013. If interested in extending your tour please send us an e-mail stating how long you would like to extend for and if there are any specific places you would like to visit.
Please bear in mind that the Mass Games usually officially take place from August to September 9 (National Day). They tend to be extended until mid-October although this is only confirmed once they are being held. We will keep you posted once the extension has been confirmed but it should not be taken for granted that they will be held in October. We name this tour North Korea Mass Games Tour because we do expect the Games to be extended until October, however if you definitely do not want to miss the Games then we recommend you go before September 9th to North Korea.
If not a US citizen and interested in entering by train, please contact us.
Day 1 - October 3 (Thursday)
Depart from Beijing at 14.00 flight JS 152 Terminal 2, Beijing Capital Airport
Arrive in Pyongyang at 17.00 (Pyongyang time)
PM
Fountain Park
Arch of Triumph
Brief walk around the area, see the enormous pictures of the Leaders Kim Il Sung and Kim Jong Il
Mansudae Grand Monuments - giant bronze statues of the Leaders Kim Il Sung and Kim Jong Il
Hotel check-in: Yanggakdo Hotel
Welcome Dinner: KITC Restaurant, Pyongyang
Overnight: Yanggakdo Hotel, Pyongyang
Day 2 - October 4 (Friday)
AM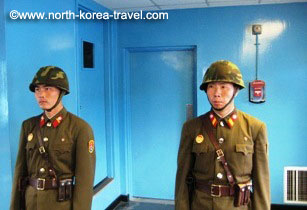 Early departure to Kaesong (2.5 hour drive)
38th Parallel (DMZ) - chance to enter the famous blue negotiation rooms where talks between North & South Korea have taken place
Koryo Museum, Kaesong - initially a university during the Koryo dynasty. Chance to stop by the stamp & souvenir shop in Kaesong when exiting the museum
PM
Lunch: Tongil Restaurant - reunification restaurant
Concrete Wall - built by the South and only visible from the North. See one of the world's most important nature reserves as hardly any humans have stepped on the land dividing the Korean peninsula since 1953
Drive back to Pyongyang
Overnight: Yanggakdo Hotel, Pyongyang
Day 3 - October 5 (Saturday)
AM
Breakfast: Yanggakdo Hotel
Drive to Mt. Myohyang - "fragrance mountain" is located in a beautiful quiet area of Korea. Chance to see a variety of landscapes when driving there
International Friendship Exhibition Centre - see where thousands of gifts have been presented to the Leaders Kim Il Sung, Kim Jong Il and Mother Kim Jong Suk (wife and mother of Kim Il Sung and Kim Jong Il respectively)
Pohyon Temple
PM
Lunch: Chongchon Hotel
Drive back to Pyongyang
Victorious Fatherland Liberation War Museum - see the North Korean version of the Korean War. This museum exhibits original weapons and vehicles used during the first Cold War conflict
USS Pueblo - US spy ship captured in 1968. The only US vessel in possession of another country
Dinner: Rungrado Restaurant, Pyongyang
Overnight: Yanggakdo Hotel, Pyongyang
Day 4 - October 6 (Sunday)
AM
Breakfast: Yanggakdo Hotel
Kumsusan Memorial Palace - Mausoleum of Kim Il Sung and Kim Jong Il. The most sacred place in the DPRK
Revolutionary Martyrs' Cemetery
Grand People's Study House - see the biggest study institution in the DPRK with great views of Kim Il Sung Square
PM
Walk around Kim Il Sung Square - casual stroll in the city centre. Those interested can go to the Foreign Book & Stamp shop
Juche Tower - chance to go up 150 metres and have a panoramic view of Pyongyang or to relax by the Taedong River if you would rather not go up the tower
Party's Foundation Monuments
Pyongyang Metro (extended ride) - the deepest in the world. Ride with locals for several stops
MASS GAMES - if they are extended until October. If you do not want to miss the Mass Games then we recommend you to book a tour before September 9th as it has been confirmed that the Mass Games will take place from July 22nd to at least September 9th (DPRK National Day)
Local funfair - great chance to mingle with North Koreans even if you decide not to go on any rides
Farewell dinner: Pyongyang Duck BBQ Restaurant
Overnight: Yanggakdo Hotel, Pyongyang
Day 5 - October 7 (Monday)
AM
PM
Stopover at Sinuiju train station bordering China
Overnight: train
Day 6 - October 8 (Tuesday)
Arrive in Beijing at 08:31 am
End of our October North Korea Mass Games Tour