Holidays in North Korea 2016 November Tour III
Holidays in North Korea 2016 November Tour III - chance to discover the DPRK before the cold North Korean winter. The application deadline for this tour is October 15th 2016.
Being in the DPRK is an unforgettable and unique experience, but being only one of a few westerns in the entire country gives the trip a whole new dimension.
Please note that our group tours tend to be small, with an average of less than 10 people, which we believe is, together with the presence of one of our Western tour leaders and long lasting relationship with our Korean partners and guides, essential in allowing you having closer rapport with the Koreans, more flexibility in the official program and an invaluable chance of interacting more with local people, something that is logistically not possible with large groups.
Day 1 - November 12 (Saturday)
Depart from Beijing at 13.05 flight JS 152 Terminal 2, Beijing Capital Airport
Arrive in Pyongyang at 16.00 (Pyongyang time)
PM
Arch of Triumph – built to mark President Kim Il Sung's return to Korea from abroad. The impressive structure is located next to the Kim Il Sung Stadium and to a gigantic mural depicting his speech made upon returning to Korea.
Brief walk around the area
Drive by the

Chollima Statue

– the winged horse represents the DPRK's policy of rapid reconstruction after the war. While other countries would take one step forward, the DPRK's goal was to advance 10 steps.
North Korea November Tour III Welcome Dinner: KITC Restaurant, Pyongyang
Hotel check-in: Yanggakdo Hotel, one of the best in Pyongyang
Overnight: Yanggakdo Hotel, Pyongyang
Day 2 - November 13 (Sunday)
AM
Breakfast: Yanggakdo Hotel
Kumsusan Memorial Palace - mausoleum of the Leaders Kim Il Sung and Kim Jong Il (where they lie in state). Please note that this is one of the most sacred places in the DPRK and that no informal attire should be worn when visiting. You will be fully briefed before your trip.
Revolutionary Martyrs' Cemetery - located in the outskirts of the capital of the DPRK on a hill, it offers great views of the skyline of Pyongyang. This cemetery is dedicated to National Heroes. It is common to see school children visiting. Children in bright green military uniforms are children of military personnel who have perished or are ill and who are taken care of by the state.
Mansudae Grand Monuments

- the giant bronze statues of the Leaders Kim Il Sung and Kim Jong Il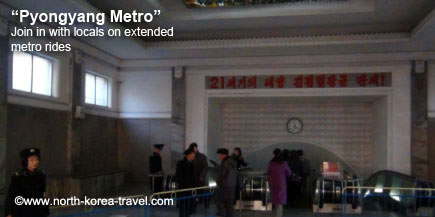 PM
Lunch: local hotpot restaurant, Pyongyang
Pyongyang Metro

- take an extended ride in the deepest metro in the world with locals. Chance to experience one of the busiest aspects of life in Pyongyang.
Juche Tower

- chance to go up 150 meters and have a panoramic view of Pyongyang (the torch adds another 20 metres to the tower).
Depart to Kaesong - we head south towards the border between North and South Korea. The trip is 2.5 hour long and we will have a break by the highway where you can take pictures. If you go up the building you can take pictures of the empty Re-unification Highway. Please note that there are several

military check-points

when going and coming back from Kaesong. Our guides will tell us when we cannot take pictures. After the break it will start getting dark and driving on an empty pitch black highway towards one of the most symbolic and long lasting points of the Cold War in the world while the guides talk to us about life in the DPRK is definitely an unforgettable experience. They will explain to us too the DPRK's points for a re-unified Korea.
Hotel check-in: Minsok Hotel, traditional courtyard Korean hotel located by the old part of town. We will sleep and eat on the (heated) floor. If you would like to try dog meat soup this is possible (€5 per person). You can also try ginseng chicken soup (€30 Euros - one chicken is more than enough for two people) or simply have the food served in the restaurant which is included in your tour fee.
There is a cozy small bar by the dining room where we usually gather for drinks and to chat after dinner. Our Korean guides join in too, which is great to get to know them and their personal views better.
Dinner: Minsok Hotel, Kaesong
As you exit the restaurant after dinner you can see the bronze lit-up statue of Kim Il Sung at a distance overlooking the whole city of Kaesong, indeed an impacting view given the darkness that dominates the general scenery. Also worth mentioning is the stark contrast of dark skies full of stars (given a clear night of course) and the purple / orange skies that can be seen further south, presumably from Seoul which is only around 70 km away.
Overnight: Minsok Hotel, Kaesong
Day 3 - November 14 (Monday)
AM
Breakfast: Minsok Hotel - you can choose between a traditional Korean breakfast or a western style breakfast
Drive to Mt. Janam where the giant bronze statue of President Kim Il Sung is. We will be able to see the local pavilions and the old part of town which was not destroyed in the Korean War. Quite a rare view in the DPRK, where most buildings have a communist style architecture!
Drive to the Tombs of King Kongmin and his Mongolian wife - the twin tombs are located in a quiet surrounding. As we drive there we will be able to see ancient tombs of generals too, all in their original states.
DMZ (Panmunjom, 38th Parallel) - we will be escorted by a WPA soldier who will hop on our bus as we are taken to the demarcation line. This is a great chance to interact with a North Korean soldier as they tend to be curious about what foreigners think about the Korean War and about the situation on the Korean peninsula.
Chance to enter the famous blue rooms where negotiations between North &South Korea take place. Please note that these have been closed to travellers when negotiations between the North and South Korea are frozen. If they resume though we will be able to enter. If not, we will still walk up close to them and face South Korean soldiers on the other side of the 38th Parallel. We will also be shown by the North Korean soldiers where the Korean War armistice was signed and be able to sit on the original chairs used when the armistice talks where held.
Lunch: Tongil Restaurant - the Re-unification restaurant serves each person up to 12 small dishes in covered up golden plated bowls. You can also try some soju (Korean liquor) if you like!
PM
Drive back to Pyongyang - as we drive back we will be able to see the train station built to link North Korea and South Korea but which is not in use. The internationally known Kaesong Industrial Complex will also be seen at a distance.
Stop by the Re-unification monuments just after having entered the capital. Great chance to take some pictures.
Victorious Fatherland Liberation War Museum (Korean War Museum) - the museum was re-located and is now much larger and shows more detailed information. You will be able to walk through "war scenes" and see planes, tanks and weapons used in the Korean War. Most significantly, you will be able to witness first hand how vivid the first armed conflict of the Cold War remains in the DPRK, something you will also perceive when at the DMZ.
USS Pueblo - US spy ship captured in 1968, it is held as a trophy in the DPRK and shown to Koreans and foreigners. The ship was captured off the east coast of the DPRK and then shipped to Pyongyang. The US crew captured stayed in North Korea 11 months before being released.
Grand People's Study House - see locals studying. Chance to

join an English lecture

if this is being held when we visit. There are also truly great views of Kim Il Sung Square as the building is located just behind the point where the country's leaders view military parades (those that we see on TV).
Dinner: Number 1 Pyongyang Duck BBQ Restaurant
Overnight: Yanggakdo Hotel, Pyongyang
Day 4 - November 15 (Tuesday)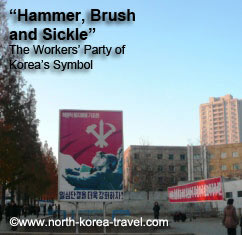 AM
Breakfast: Yanggakdo Hotel
PM
Lunch: Chongchon Hotel, Mt. Myohyang
Korean Film Studio

- see where DPRK movies are produced and walk around the sets

Dinner: City Restaurant, Pyongyang
Overnight: Yanggakdo Hotel, Pyongyang
Day 5 - November 16 (Wednesday)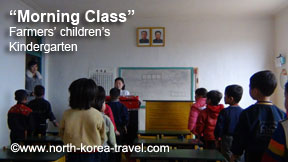 AM
Breakfast: Yanggakdo Hotel
PM
Lunch: Restaurant in Nampo City
Mineral Water Factory

- chance to visit a local factory

West Sea Barrage

- 8 km long barrage that separates the Taedong River from the West Sea of Korea. This is a source of national pride in DPRK. The site was also visited by Jimmy Carter in 1994.
Farewell dinner: Local restaurant, Pyongyang
Overnight: Yanggakdo Hotel, Pyongyang
Day 5 - November 17 (Thursday)
AM
Breakfast: Yanggakdo Hotel
10.40 am train to Beijing - please contact us if you would like to exit North Korea by plane
PM
Stopover at Sinuiju train station bordering China - customs procedures are on the train
Overnight: Train
Day 6 - November 18 (Friday)
End of tour