Tours in North Korea - China National Day Short Tour
North Korea China National Day Tour - If you are travelling around China during this time of the year and would like to have a break on the golden week, this is a great chance. The application deadline for this trip is September 1st. If you apply after the application deadline we will be able to notify you within 24 hours if your transportation means can be booked on time.
Please bear in mind that the Mass Games usually officially take place from August to September 9 (National Day). In the past they have been extended until mid-October although the past two years they have only been extended until the end of September. If you definitely do not want to miss the Mass Games then we strongly recommend you to go to North Korea before September 9th.
It is possible for non-US travellers to enter by train. Please contact us if interested in this option.
Day 1 - September 30 (Tuesday)
Depart from Beijing at 12.55 flight JS 152 Terminal 2, Beijing Capital Airport
Arrive in Pyongyang at 16.00 (Pyongyang time)
PM
Fountain Park
Arch of Triumph – gigantic marble structure that marks the arrival of the Eternal President back to Korea after fighting for the anti-Japanese struggle
Brief walk around the area, see the enormous pictures of the Leaders Kim Il Sung and Kim Jong Il
Mansudae Grand Monuments - giant bronze statues of the Leaders Kim Il Sung and Kim Jong Il
Hotel check-in: Yanggakdo Hotel
Welcome Dinner: KITC Restaurant, Pyongyang
Overnight: Yanggakdo Hotel, Pyongyang
Day 2 - October 1 (Wednesday)
AM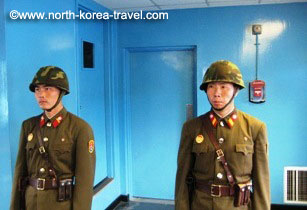 Early departure to Kaesong. We will have a break on this 2.5 hour drive. As we drive on the empty Reunification Highway, our guides will give us a detailed explanation of the DPRK's Reunification principles. We will be able to see from our coach the train station built to link North Korea to South Korea but which is currently not in use as well as the Kaesong Industrial Park Complex (albeit from a distance
38th Parallel (DMZ) - chance to enter the famous blue negotiation rooms where talks between North & South Korea have taken place. We will tour Panmunjom, always escorted by KPA soldiers as is mandatory. We will see where the Korean War Armistice was signed. The KPA soldiers tend to be keen on seeing what travellers views on the Korean War and the Korean peninsula are and a visit here presents us with a unique chance to interact with North Korean soldiers.
Koryo Museum, Kaesong – we head to the city of Kaesong which was not destroyed by the Korean War and boasts an old part of town, to visit what initially was a university during the Koryo dynasty. We will be explained what life was like in Korea in the medieval ages.
Kaesong Stamp Shop – chance to purchase stamps, postcards (you can actually send these from North Korea to your home country) and artwork.
PM
Lunch: Tongil Restaurant - reunification restaurant. You will be served 12 different dishes in covered up golden plated small bowls.
Tomb of King Kongmin and his Mongolian wife. We will see tombs of generals on the way there too. These tombs have undergone very little restoration and therefore remain close to their original state.
Drive back to Pyongyang
Party's Foundation Monuments - the gigantic monuments show the emblem of the Wrokers' Party of Korea; a hammer, sickle and brush
Farewell Dinner: Pyongyang Number 1. Duck BBQ Restaurant
Local evening funfair – we ask for a visit here to be arranged not so much for the rides (which are great fun!) but more so because it is a great chance to mingle with North Koreans. If you decide to take a ride rates vary from 1 to 3 Euros per ride.
Overnight: Yanggakdo Hotel, Pyongyang
Day 3 - October 2 (Thursday)
Day 4 - October 3 (Friday)
AM
Breakfast: Yanggakdo Hotel
10.40 am Train to Beijing - please contact us if you are interested in exiting by plane
PM
Stopover at Sinuiju train station bordering China
Overnight: train
Day 8 - Ocotber 8 (Tuesday)
Arrive in Beijing at 08:31 am
End of our China National Day Short Tour
Please go to our North Korea Tours page to see more information on other tours that we offer.