North Korea Summer Tour 2015
North Korea Summer Tour 2015. The application deadline for our standard North Korea Summer Tour is May 19th 2015. If interested in extending your tour please send us an e-mail stating how long you would like to extend for and if there are any specific places you would like to visit.
If not a US citizen you can also join this tour by train. The tour cost will be lower in this case. Please notify us if interested in this option.
Day 1 - June 16 (Tuesday)
Depart from Beijing at 13.00 flight JS 152 Terminal 2, Beijing Capital Airport
Arrive in Pyongyang at 16.00 (Pyongyang time)
PM
Mansudae Grand Monuments

- Giant Bronze Statues of the Leaders Kim Il Sung and Kim Jong Il
Views of

Chollima Statue

- represents the Chollima policy set by the DPRK to reconstruct the country after the Korean War
Arch of Triumph

- impressive monument built where Kim Il Sung made his first speach in Pyongyang upong returning to Korea after fighting against the Japanese
Welcome Dinner: KITC restaurant
Hotel check-in: Yanggakdo Hotel, Pyongyang
Overnight: Yanggakdo Hotel, Pyongyang
Day 2 - June 17 (Wednesday)
AM
Breakfast: Yanggakdo Hotel
Drive to the picturesque

Mount Myohyang

- meaning Fragrance Mountain in Korean, it is located in a bucolic area of the DPRK

PM
Ride on Pyongyang Metro

, the deepest in the world, with locals. Enjoy an extended ride with locals stopping at several stops and allowing you to see a busier aspect of life in Pyongyang
Juche Tower

- chance to go up the 150 metre tower (170 metres including the flame) that offers a panoramic view of Pyongyang
Dinner: Rungrado Restaurant, Pyongyang
Overnight: Yanggakdo Hotel, Pyongyang
Day 3 - June 18 (Thursday)
AM
Breakfast: Yanggakdo Hotel
PM
Lunch: local restaurant in Pyongyang
USS Pueblo

- US spy ship captured in 1968. The only US vessel in possession of a foreign country, it is exposed in North Korea as a trophy and detailed information of the USS Pueblo Incident are given when visiting.
Children's Palace

with an impressive performance
Late drive to Kaesong

- We head south on the Re-unification Highway towards the border with South Korea and stay overnight in Kaesong. Our guides will explain the principles by which the DPRK would like to reunite Korea

Check-in Minsok Hotel, traditional Korean courtyard hotel
Overnight: Minsok Korean Folk Hotel, Kaesong
Day 4 - June 19 (Friday)
AM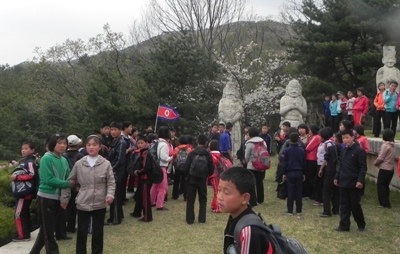 Go up Janam Hill

- this offers perfect views of Kaesong and the old part of town too. Unlike most cities in Korea, Kaesong was not destroyed by the Korean War and the old part of town conserves its original form, which is a great contrast to the other cities in the DPRK.
38th Parallel (DMZ)

- see the joint military area. You will be able to enter the blue negotiations room which are set on North and South Korea. This is a highlight of all tours, a moment where the tension can be felt and that you will certainly not forget!
Koryo Museum (Kaesong)

- first university on the Korean peninsula. Kaesong was the capital of the Koryo Dynasty and this unversity turned museum dates from the 900s.
Stamp Shop

- located just outside the Koryo musuem, we usually have a break here. All kinds of DPRK stamps, postcards, artwork and other souvenirs can be purchased here.You can also purchase souvenirs in Pyongyang if you wish.
PM
Lunch at Tongil Restaurant (Kaesong) - dishes served in golden plated metal bowls. Portions are small, but having 12 bowls per person makes it more than a big lunch!
Stop by the

Re-unification Monuments
Walk around

Kim Il Sung Square

- stroll around Pyongyang city centre
Overnight: Yanggakdo Hotel, Pyongyang
Day 5 - June 20 (Saturday)
AM
Breakfast: Yanggakdo Hotel
PM
Songdowon Beach

(chance to swim in the sea), optional sludge baths
Check-in Dongmyong Hotel, Wonsan
Dinner: Local restaurant, Wonsan
Overnight: Dongmyong Hotel, Wonsan
Day 6 - June 21 (Sunday)
AM
Breakfast: Dyongmong Hotel
Chonsam Cooperative Farm

- chance to see how farmers and their families work and live. We can visit a home and the school attended by the farmers' children. These are all located within the farm premises.
Wonsan Agricultural University

- several famous Korean scientists and national heros graduated from this university. When riding here you will pass by several fields
Walk to Jandok Island

- this offers views of the whole seafront of Wonsan
Walk around Wonsan City

- Central Square and the pier - we can see locals getting along with their daily lives.
PM
En-route picnic lunch / local restaurant
Evening walk around by the

Taedong River

in the centre of Pyongyang
Farewell Dinner: Local restaurant in Pyongyang
Overnight: Yanggakdo Hotel
Day 7 - June 22 (Monday)
AM
Breakfast: Yanggakdo Hotel
10.40 am Train to Beijing - if interested in flying back to Beijing from Pyongyang please contact us
PM
Stopover at Sinuiju train station bordering China
Day 8 - June 23 (Tuesday)
Arrive in Beijing at 08:31 am
End of tour