Kim Il Sung Stadium | 김일성경기장
Fun Runs, 40 Thousand Fans, FIFA Football Games, Mexican Waves, Parachutes and Planes!
---
Hello and welcome to a new issue of KTG Tours' newsletter!

Today we'll show you what it is like for travellers to be cheered on in a 40,000 seater fully packed stadium before running through the streets of Pyongyang, see a World Cup qualifying football match between the DPRK and Japan, witness parachutists landing in Kim Il Sung Stadium and much more!
---
---
If you like this newsletter,, please do a friend a favor and "pay it forward."

If a friend did forward this to you and if you like what you read, please subscribe to KTG by visiting our blog.
---
Veuillez cliquer sur le lien suivant pour lire l'article en français: Stade Kim Il Sung | Matchs de football, marathons, parachutistes et 40000 personnes
---
Haga click en el siguiente enlace por favor para leer este artículo en castellano: Estadio Kim Kim Il Sung | Partidos de Fútbol, Maratones, Paracaidistas y 40.000 Espectadores
---
Background
---
Kim Il Sung Stadium is located by Moran Park, just across from the Arch of Triumph in the Central District of Pyongyang.
---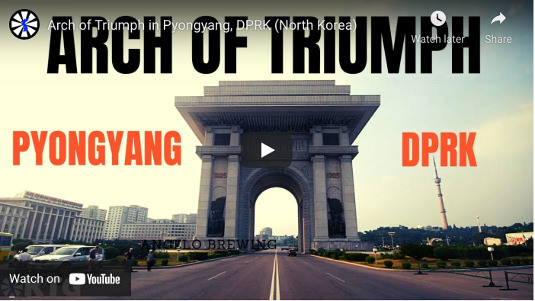 ---
It is where President Kim Il Sung gave a triumphal speech after the liberation of Korea from Japanese colonial rule.
---
Marathons
---
Pyongyang Spring Marathon
---
Running through Pyongyang itself is an amazing experience. But being in Kim Il Sung Stadium with 40,000 people cheering you on is electrifying.

In the video below, a KTG traveller shakes hands with a university student just before the start of the Pyongyang Marathon.
---
---
But what if I don't fancy running the marathon? Can I still stay in the stadium and enjoy any shows? Absolutely!

In fact, they tend to have a football match while the marathon takes place, though they have held an amazing array of other events too.
---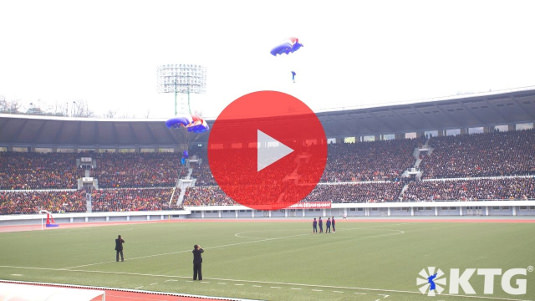 ---
In the 2015 Marathon they had several parachutists land in the stadium once the runners left just before a football match!
---
Pyongyang Autumn Marathon
---
The Pyongyang autumn marathon opening and closing ceremonies take place just outside Kim Il Sung stadium.
---
---
Although we do not run inside the stadium, it's great to run the Pyongyang Autumn Marathon as there are far many less tourists in Pyongyang and things are much less hectic than during the spring marathon in April.
---
---
Check out the video we took at the first ever autumn marathon below:
---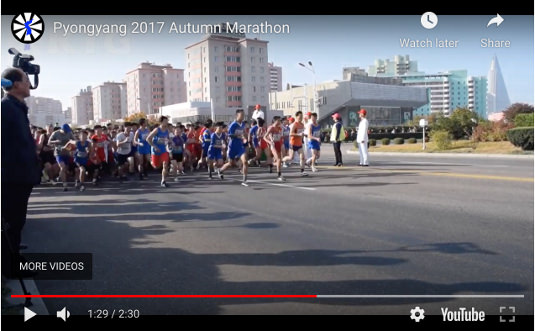 ---
Football Matches
---
The DPRK plays its FIFA games at Kim Il Sung Stadium. We can also see North Korean clubs play here.
---
DPRK vs Japan
---
Back in November 2011, the DPRK, ranked #124 in the world and Japan, ranked #17 in the world, #1 in Asia, had a World Cup qualifying match.

We flew into Pyongyang the day before the game and bumped into the Japanese squad at the airport. They had been there several hours apparently.
---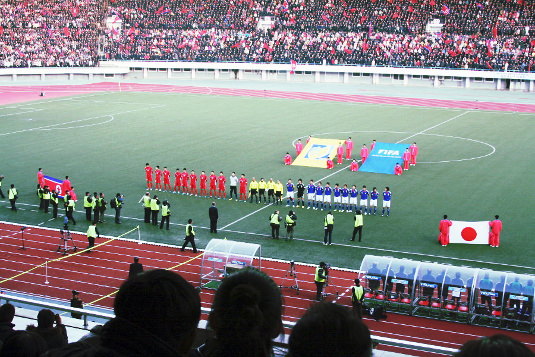 ---
The DPRK had no chances of qualifying, but the match was top priority given who their rivals were.
---
---
Impressive mosaic at Kim Il Sung stadium during the match between North Korea and Japan in 2011.
---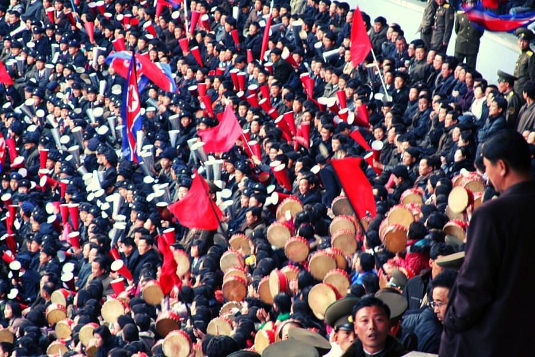 ---
So what was the final score then? Well, you'll have to read our DPRK vs Japan blog post or our full match report written back in 2011 to find out!
---
Domestic Games
---
Apart from seeing the DPRK men's a women's international games, we can also see domestic club matches.
---
---
Facilities
---
Not many people know, but the stadium also has tennis, basketball, track and field and table tennis facilities.
---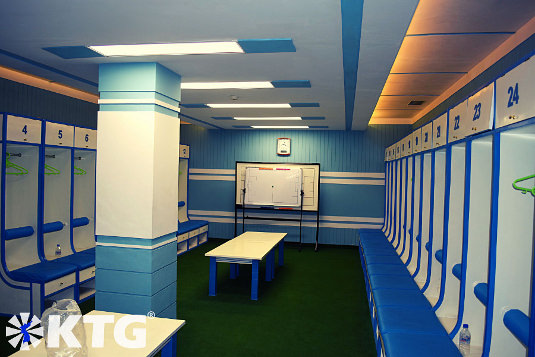 ---
Fancy visiting Kim Il Sung stadium? Then please get in touch with us!