Future Scientists Street
Shaping the New Skyline of Pyongyang
---
Hello and welcome to KTG Tours' newsletter!

Today we'll explore one of Pyongyang's newest streets, a retro-futuristic avenue which has significantly changed the architectural landscape of the capital.

If you like this newsletter,, please do a friend a favor and "pay it forward."

If a friend did forward this to you and if you like what you read, please subscribe to KTG by visiting our blog.
---
Veuillez cliquer sur le lien suivant pour lire l'article en français: Cité des Scientifiques Mirae | Un voyage vers le Futur et le Passé.
---
Haga click en el siguiente enlace por favor para leer este artículo en castellano: Avenida de los Científicos Mirae | Un Viaje al Futuro y al Pasado.
---
Bike Ride
---
Take a bike ride with us through Mirae (Future) Scientists Street; a 6 lane, atom themed street located on the west bank of the Taedong River.
---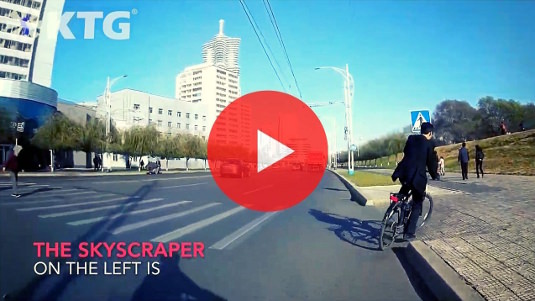 ---
Background
---
Built at lightening speed or, what has been dubbed "Pyongyang Speed" in the DPRK, construction started in 2014 and the street was opened to the public in 2015.
---
Galaxy Tower | Unha Tower 은하 타워
---
Full of high-rise buildings, the jewel in the crown of Mirae Street is Galaxy Tower. Built in the form of a stretched atom and standing as high as the platform view of the Juche Tower, at 150 meters, this bright blue and white colossal structure is one of the tallest buildings in the DPRK.
---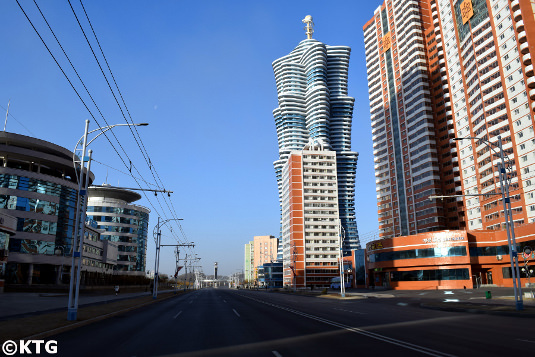 ---
Facilities
---
The street has several schools, bars, restaurants (including an Italian restaurant), a cinema where we have been able to enjoy North Korean movies with our travellers, several schools and a kindergarten.
---
---
Who lives there?
---
A large proportion of the people living in Mirae Street are professors and scientists of Kim Chaek University which is located nearby. Kim Chaek university has around 2000 staff members and over 15,000 on campus students.
---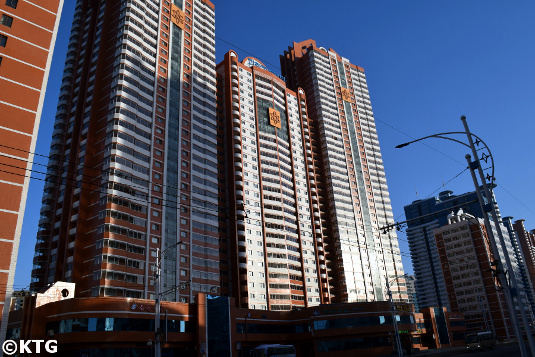 ---
Best Spot to Take Pictures
---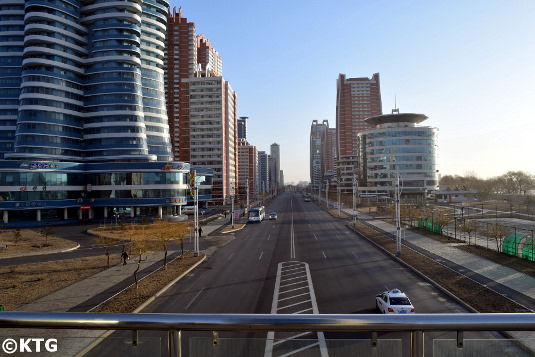 ---
Want to know what the best place is to take pictures of the entire avenue? Please read our full article about Mirae Street to find out!