Public Holidays in North Korea
What are the main dates in the DPRK?
We hope this email finds you all safe and well! If you are already planning your trip to North Korea you may be asking yourself when the major public holidays are and how these are celebrated.
Mass dances? Military parades? Fun and games with locals?
If you like this newsletter,, please do a friend a favor and "pay it forward."
If a friend did forward this to you and if you like what you read, please subscribe to KTG by visiting our blog.
---
Veuillez cliquer sur le lien suivant pour lire l'article en français: Jours Fériés en Corée du Nord.
---
Haga click en el siguiente enlace por favor para leer este artículo en castellano: Vacaciones en Corea del Norte. ¿Cuáles son los días festivos más importantes del país?
---
Please click on the link below for our full article: Main Public Holidays in the DPRK.
---
Going on a public holiday is a great time to visit the DPRK.

You will be able to see major celebrations and join in the fun with locals.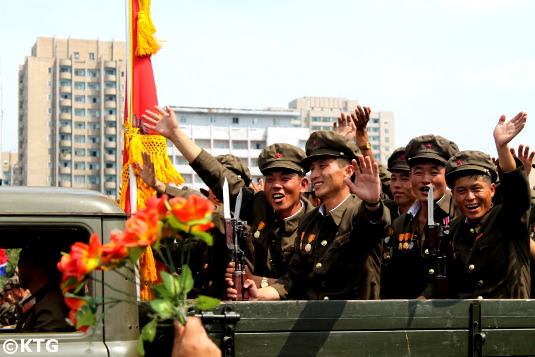 Here is a list of some of the main holidays in the DPRK:
16 February - Day of the Shining Star
Birthday of Chairman Kim Jong Il. Despite the freezing cold weather, thousands of people gather for mass dancing events.

In the evening we gather at Kim Il Sung Square to see a truly impressive firework display.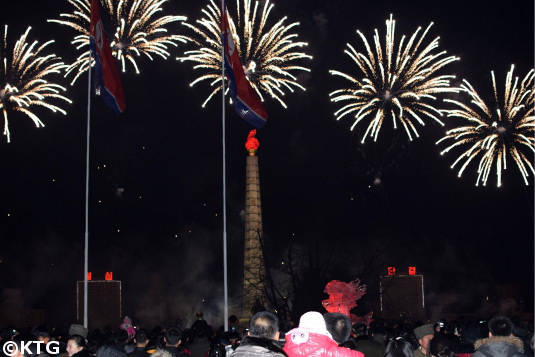 15 April - Day of the Sun
The Birthday of President Kim Il Sung.

Like the Day of the Shining Star, this is one of the most important dates in the DPRK.
Unlike on 16th February, the weather is not below zero.

This allows for picnics in the park where we can drink and dance with locals.

1 May - May Day (International Workers' Day)
Great weather and a lot of games and fun with locals!

We usually start the day heading of to Mount Taesong funfair in Pyongyang where games and events are held with locals. Definitely one of the most fun days to visit the DPRK! Check our Youtube video below!
In the afternoon one of our stops includes Moran Park where thousands of locals gather to dance, drink and eat!

Be ready to be asked to join in the dancing!
27 July - Victory Day
27 July marks the end of the Korean War.

Mass Dances are usually held on this day.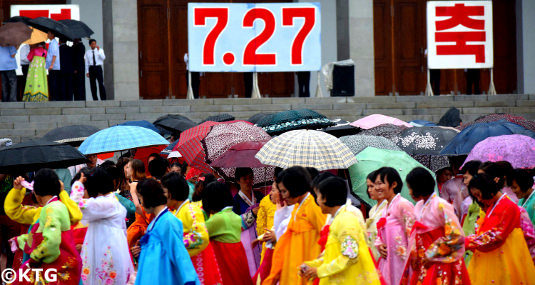 15 August - Liberation Day
Korea stopped being under Japanese colonial rule on this day in 1945.

This holiday is celebrated in South Korea too.

Street performances are usually held. Locals also celebrate in the park.
9 September - National Day
The Day the DPRK was founded.

Like most main North Korean holidays, mass dances tend to be held on this day, where thousands of locals dance in a synchronised way.
If it is a major anniversary, like the 60th, 65th, 70th, 75th anniversary, military parades tend to be held.

Celebrations are also held in the park in the afternoon.
10 October - Foundation Day of the Workers' Party of Korea
The Korean Workers Party was founded on this day in 1945.

The weather is great then, not hot, not cold. Mass Dances take place by the Party Foundation Monument. Like with other main national holidays, military parades normally take place on major anniversaries (e.g. 70th, 75th anniversary).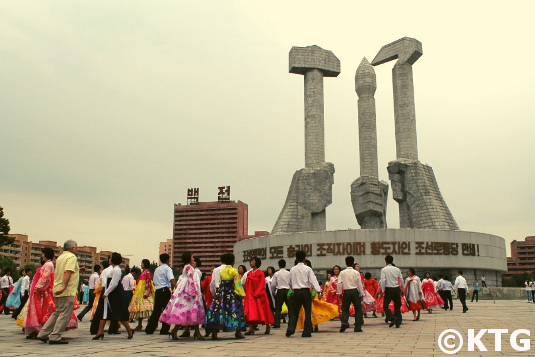 16 November - Mothers' Day
This holiday has become increasingly important in North Korea these past few years.

You will see mothers dressed in traditional Korean dresses all over the country. Dances are held too to celebrate this day.
24 December - Mother Kim Jong Suk's Birthday
National Heroine, Comrade Kim Jong Suk's birthday is celebrated on this day.

She was an anti-Japanese revolutionary and wife of President Kim Il Sung and mother of Chairman Kim Jong Il.

KTG were the first group to be in Pyongyang during these celebrations back in 2012 as the DPRK used to close its borders to tourism between mid December to mid January.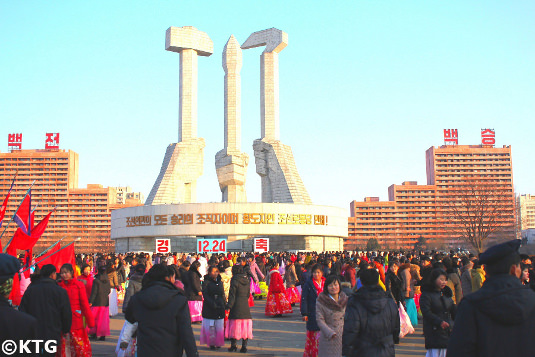 31 December - New Year's Eve
What better way to start the New Year than by doing so with tens of thousands of Koreans at Kim Il Sung Square?

We start the evening enjoying some live performances at Kim Il Sung Square. This is followed by the countdown to the New Year and then by an impressive firework display.

Do remember to bundle up well!