North Korea China National Day Tour - Golden Week Break
North Korea China National Day Tour - what better way to have a break from all the hustle and bustle of China on this hectic week than making a quick visit to its next door neighbours and long lasting friends, the DPRK! Join us on our Chinese Golden Week Tour. Please apply by 1st September at the latest as it can be very hard to make last minute booking reservations in China for these dates.
If you apply after the application deadline we will let you know within 24 hours if we can still add you to our tour.
We arrange trips all over China and have a dedicated team who specialises in trips around the Middle Kingdom. Do please let us know if may need any assistance in our arranging a China tour extension for you.
Non-US travellers can enter by train. Please apply 6 weeks before the tour starts if interested in this option as train tickets will run out quickly during this period.
Day 1 - September 30 (Saturday)
Depart from Beijing at 13.05 flight JS 152 Terminal 2, Beijing Capital Airport
Arrive in Pyongyang at 15.35 (Pyongyang time)
PM
Fountain Park - common places for recently married couples to take pictures. Beautiful views of the Grand People's Study House in the background.
Mansudae Grand Monuments - the famous giant bronze statues of the leaders Kim Il Sung and Kim Jong Il
Arch of Triumph - monuments in Pyongyang are big, and this is no exception. Higher than its Parisian cousin, the Arch of Triumph marks President Kim Il Sung's return to Korea after liberation from Korea.
Brief walk around the area - there is a huge mosaic mural of President Kim Il Sung showing him give his liberation speech in 1945.
Hotel check-in: Yanggakdo Hotel
Welcome Dinner: KITC Restaurant, Pyongyang
Overnight: Yanggakdo Hotel, Pyongyang
Day 2 - October 1 (Sunday)
AM

Breakfast: Yanggakdo Hotel
Kumsusan Palace of the Sun - This is where the leaders Kim Il Sung and Kim Jong Il remain in state. Koreans do not call this place a mausoleum, but the Palace of the Sun. It is the most sacred place in the DPRK and we kindly ask travellers to be formally dressed for the occasion. We will fully brief you before the trip when we meet in China before going to Pyongyang.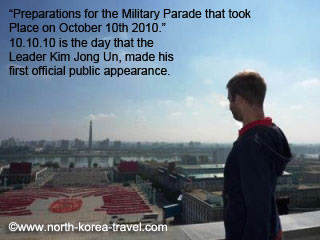 Revolutionary Martyrs' Cemetery - shows bronze busts of the DPRK heroes who devoted their lives to the anti-Japanese struggle. Located on a hill, it offers fantastic views of the whole capital city.
PM
Lunch: Local restaurtant, Pyongyang
Grand People's Study House - more than just a library, this enormous study centre hosts lessons (including English lessons). It also offers amazing views of Kim Il Sung Square
Kim Il Sung Square- if you have seen any news about the DPRK on TV then you most certainly have seen images of this square. Located in the heart of Pyongyang, it is where military parades and mass rallies are held.
Moran Park - gathering place for locals on national holidays and Sundays. If there are any dances taking place do not be scared if asked to join in!
Juche Tower- you can go up the tower (by elevator not by foot!) and have a panoramic view of Pyongyang. It is also possible to sit and relax by the river bed while we wait for those who go up to come down if you would rather not go up.
Pyongyang Metro (extended ride) - ride on several stops with locals. The trains are from former East Germany, though there is one 100% DPRK made one that was only inaugurated in 2015.
Party Foundation Monument - the Korean Workers' Party symbol consists of a hammer, sickle and brush and this monument has a each element of the symbol in the form of a 50 metre tall monument!



Evening Drive to Kaesong - There will be a break on this 2.5 hour drive. As we drive on the empty Reunification Highway, our guides will give us a detailed explanation of the DPRK's Reunification principles. It will become dark as we approach Kaesong. Riding across the pitch-black highway as we chat with our Korean guides is an interesting and a little surreal experience. When we arrive Kaesong we will be able to see the giant lit up bronze statues of President Kim Il Sung and General Kim Jong Il at a distance overlooking the whole city, once capital of the Koryo Dynasty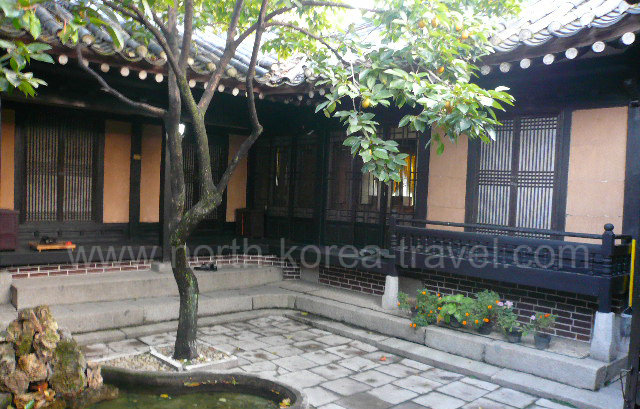 Check-in: Minsok Hotel - The folk hotel is a traditional courtyard hotel located in the old part of Kaesong. Given that there is a clear night, which should be the case this time of year, walking around the premises at night allow you to see countless stars which is a stark contrast to the skies from Seoul only just 70 KM south (you can see the difference from Kaesong as you look south). The statue of President Kim Il Sung can also be seen from the courtyard hotel.
Dinner: Minsok Hotel - If you would like to try some dog meat soup this is optional (€5) as is the ginseng stuffed chicken (€30, one chicken serves two people). Please let us know beforehand if interested in the chicken a few hours before our arrival to Kaesong as it will have to be prepared beforehand. Please note that these dishes are optional and that regardless on whether you order them or not, many other dishes will be served.
Overnight: Minsok Folk Hotel, Kaesong
Day 3 - October 2 (Monday)
AM
Breakfast: Minsok Hotel, Kaesong
Tomb of King Kongmin and his Mongolian wife. We will see tombs of generals on the way there too. These tombs have undergone very little restoration and therefore remain close to their original state.
38th Parallel (DMZ) - a local KPA Officer will show us around one of the tensest places on the Korean Peninsula. We will have the chance to enter the famous blue negotiation rooms where talks between North & South Korea have taken place. We will tour Panmunjom, always escorted by KPA soldiers as is mandatory. We will see where the Korean War Armistice was signed. Please note that if the situation on the Korean Peninsula is particularly tense that these houses are locked, though we will still have a close-up view and will stand right in front of them and of South Korea.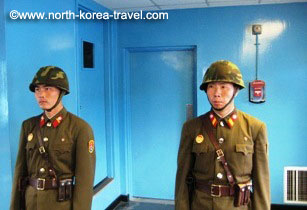 Koryo Museum, Kaesong - we head to the city of Kaesong. This was not destroyed during the Korean War as they had expected it to be part of South Korea. Kaesong has several UNESCO World Heritage sites of which the Koryo Museum is one. It was the first university on the Korean Peninsula.
Kaesong Stamp Shop - all kinds of stamps, posters, artwork and ginseng (famous in Kaesong) are sold here. This is just located outside of the Koryo Museum.
PM
Lunch at Tongil Restaurant (Kaesong city) - 12 different dishes in covered up golden plated small bowls will be served, just the way kings used to eat in Korea!
Drive back to Pyongyang
Stop at the Re-unification Monuments - good chance to take some pictures
Victorious Fatherland Liberation War Museum - see the North Korean version of the Korean War. This museum exhibits original weapons and vehicles used during the first Cold War conflict. It was moved to a much bigger building in 2013 and is now a truly impressive and detailed museum fully explaining the DPRK version of the Korean War.



USS Pueblo- US spy ship captured in 1968. The only US vessel in possession of another country and is proudly shown by the DPRK as a trophy
Dinner: Local restaurant in Pyongyang
Overnight: Yanggakdo Hotel, Pyongyang
Day 4 - October 3 (Tuesday)
AM
Breakfast: Yanggakdo Hotel, Pyongyang
Drive to Mt. Myohyang- "Fragrance Mountain" is located in a beautiful quiet area of Korea. Chance to see a variety of landscapes when driving there
International Friendship Exhibition Centresee where thousands of gifts have been presented to the Leaders Kim Il Sung, Kim Jong Il and Mother Kim Jong Suk (wife and mother of Kim Il Sung and Kim Jong Il respectively). There is now too a new section for the Leader Kim Jong Un.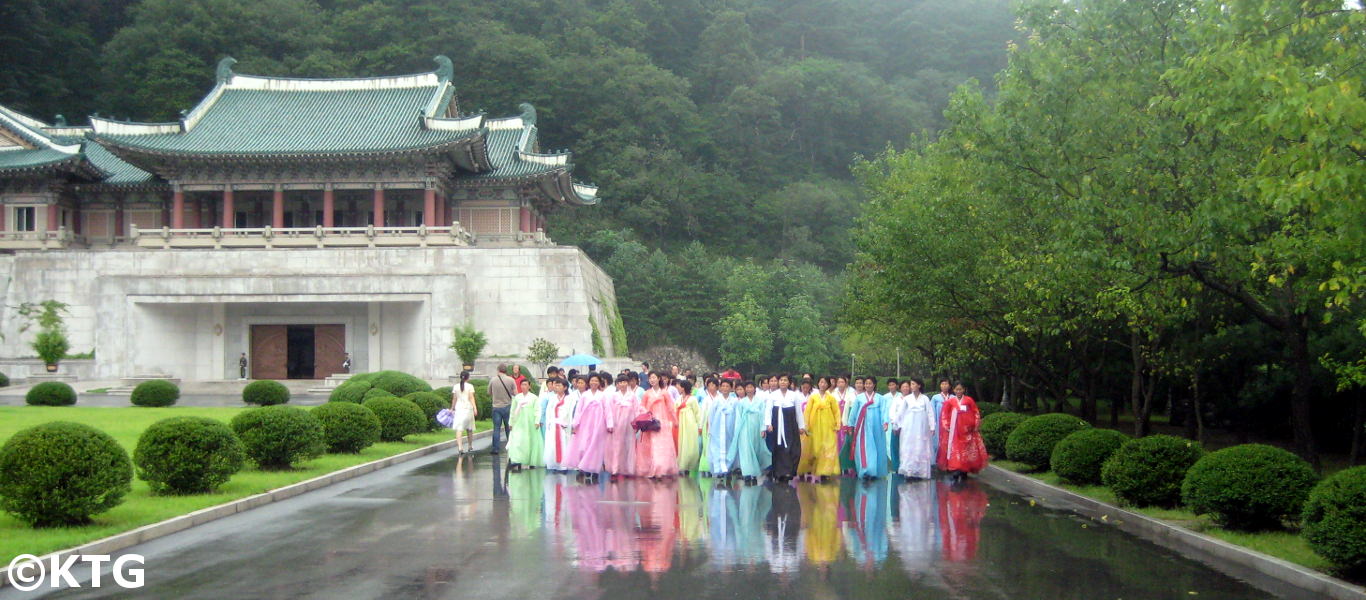 Pohyon Buddhist Temple - initially built almost 1000 years ago (it has undergone restauration several times), this used to be the centre of buddhim in this region of Korea
PM
Lunch: Chongchon Hotel, Mt. Myohyang
Drive back to Pyongyang
Children's Palace - see the children taking extra curricular activities and then assist a truly amazing performance put on by them
Dinner: Pyongyang Number 1 Duck BBQ Restaurant, Pyongyang
Local evening funfair - we ask for a visit here to be arranged not so much for the rides (which are great fun!) but more so because it is a great chance to mingle with North Koreans. If you decide to take a ride rates vary from 1.5 to 6 Euros per ride.

Overnight: Yanggakdo Hotel, Pyongyang

Day 5 - October 4 (Wednesday)

AM

10.10 am train to Beijing - if interested in flying back please contact us

PM

Stopover at Sinuiju train station bordering China - DPRK customs will be carried out on the train

Day 6 - October 5 (Thursday)

Arrive in Beijing at 08:38 am

China National Day Tour