North Korea Easter Tour 2016
North Korea Easter Tour 2016. The application deadline for this tour is February 14 2016. If interested in extending your tour please send us an e-mail stating how long you would like to extend for and if there are any specific places / aspects of the DPRK you would like to see.

If not a US citizen, you can also join this tour by train. Please contact us if you are interested in this option.
Day 1 - 24 March (Thursday)
Depart from Beijing at 14.00 flight JS 252 Terminal 2, Beijing Capital Airport
Arrive in Pyongyang at 17.00 (Pyongyang time)
PM
Fountain Park

- we walk around here before heading to Mansu Hill. Families and friends usually come here for pictures



Mansudae Grand Monuments

- Giant bronze statues of the Leaders Kim Il Sung and Kim Jong Il. Please note that we are kindly asked to show our respects to the Leaders here

Views of Chollima Statue

- the famous winged horse used as a symbol of the national policy after the Korean War which encouraged Koreans to increase production in order to reconstruct the country quicky

Hotel check in: Yanggako Hotel

Welcome Dinner: KITC No.1 Restaurant, Pyongyang
Overnight: Yanggakdo Hotel, Pyongyang
Day 2 - 25 March (Friday)
AM
38th Parallel (DMZ)

- chance to enter the famous blue negotiation rooms where talks between North & South Korea have taken place. Please note that if these are closed due to the DPRK and South Korea having any negotiation talks (as was the case in 2013) we will still have a close up look to the rooms. A North Korean soldier will hop on our coach and show us around Panmunjom. They tend to be quite curious about what foreigners think regarding the Korean War and the political situation of Korea. This is a unique chance to interact with a DPRK soldier.
PM
Lunch at Tongil Restaurant (Kaesong)
Koryo Museum

(Kaesong) - Kaesong used to be the capital of the Koryo Dynasty.
Kaesong Stamp Shop

- apart from stamps in all forms and sizes, we can also purchase DPRK postcards (these can be mailed home from our hotel in Pyongyang), artwork, books, etc. Please note that you will also be able to purchase these at different points throughout the trip.
Mangyongdae Native House

- Kim Il Sung's Birthplace
Dinner: Local restaurant, Pyongyang
Overnight: Yanggakdo Hotel, Pyongyang
Day 3 - 26 March (Saturday)
AM
Breakfast: Yanggakdo Hotel



Drive to Mount Myohyang

- we head to a truly beautiful area of the DPRK.

PM
Lunch: Chongchon Hotel, Mt. Myohyang


Drive back to Pyongyang
USS Pueblo

- US spy ship, the only US vessel in possession of a foreign country. This was captured in 1968 and is shown as a trophy.
Dinner: Chongryu Restaurant, Pyongyang
Overnight: Yanggakdo Hotel, Pyongyang

Day 4 - 27 March (Sunday)
AM
Breakfast: Yanggakdo Hotel
Kumsusan Memorial Palace

- this is where the Leaders Kim Il Sung and Kim Jong Il remain in state. This is a very respectful place in the DPRK and formal clothing is required. We will fully brief you before your trip to the DPRK.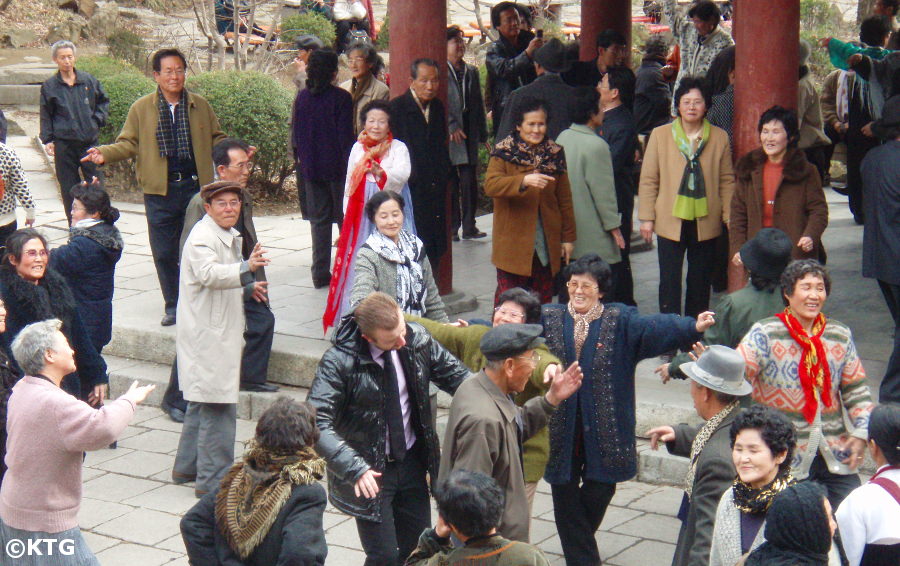 PM
Lunch: Local restaurant, Pyongyang
Ride on Pyongyang Metro

, the deepest in the world - extended ride. Join locals and explore the Pyongyang subway system. The carriages were purchased from former East Germany. The metro decoration is amazing as well as the fact that we will go around 100 metres underground!
Arch of Triumph

- brief walk around the area. We can see the Kim Il Sung Stadium from here and the giant mural showing a young Kim Il Sung giving the Liberation Speech.

Moranbong Park

- where locals gather on holidays and Sundays. Do not be surprised if you are asked to join in any of the dances! With a very limited number of foreigners visiting the DPRK each year, the site of westerners in North Korea is very rare.
Farewell Dinner: Pyongyang Duck BBQ Restaurant
Overnight: Yanggakdo Hotel, Pyongyang

Day 5 - 28 March (Monday)
AM
Breakfast: Yanggakdo Hotel
10.40 Train to Beijing - Please contact us if you would like to extend your stay in North Korea
PM
Stopover at Sinuiju train station bordering China - custom procedures will take place on the train
Overnight: train
Day 6 - 29 March (Tuesday)
Arrive in Beijing at 08:31 am
End of our 2016 North Korea Easter Tour